Ullmann Urban Sawmill 
Provides portable sawmill services at your site or at our locations.  Serving all of southeast Michigan with facilities in Dexter and Troy.
Web site: uusaw.com.
---
Jacques Forest LLC
Patrick T. Jacques
Email address: jacquesforest@yahoo.com
(989) 329-2572
1251 Sparton Road Tawas City, Mi 48763

Custom sawing at your site. Will travel anywhere in Lower Michigan.
Lumber for sale; White, Red and Jack pine, Red and White oak,
Northern white cedar all different lengths and widths call for details.
Pricing will vary by the job specifications.

We also provide natural resource services Forest Management Planning,
Forest Inventory and Sale Administration, Timber Marking and GIS Mapping.
---
Boston Lumber and Sawmill in Michigan
Ray
e-mail address: deerpelt@yahoo.com
(810) 650-1901
5903 State Road, Fort Gratiot, Mi. 48059

Portable sawmill services, I run a Wood-Mizer LT40 SH  in Port Huron Michigan.
Custom cut lumber available as well, we come to you or, "Come See What We Saw!"
---
MDJZ Custom Cutting
Steve  Mixter
Email address: ssmdjz@sbcglobal.net
(517) 546-6558
7180 Pounds Ct. Howell, MI 48855
www.mdjzmilling.com
 
MDJZ Custom Cutting is a Custom Sawmilling Business.  We have been processing all
types of lumber for 12 years. We operate a Portable Wood-Mizer LT40 sawmill.  We
will mill at your site or ours.  We also offer Kiln Drying and additional machining if you
are interested.  Please give us a call at 517-546-6558 for a free estimate.
---
Log 2 Lumber LLC
Chuck Lobaito
E-mail: log2lumber@gmail.com
(248) 535-5035
Farmington Hills, MI
Website: www.log2lumber.com
Custom sawing services on-site throughout the Metro Detroit area
including Oakland, Wayne, Macomb, Livingston, Washtenaw, and Genesse Counties.
We also sell some some lumber.
---
Krumrie Saw Mill Services

Chris Krumrie
269-313-0743
113 S. Cleveland  Ave, Galien,MI 49113

e-mail: Krumrie@krumriesms.com

websitewww.krumriesms.com

We are a Portable Saw Mill Service located in Sawyer, Michigan

Serving both Southwestern Michigan and Northwestern Indiana. 
Visit us on Facebook 
---
Freier Forestry Portable Sawmill
Eric Freier
Phone Number: (734) 320-2770

Web Site: freierforestry.com
email: freierforestry@gmail.com
Serving Southeastern Michigan since 1991
Freier Forestry  has been committed to  sustaining our natural resources and being environmentally responsible since 1991. We have saved over one million board feet of lumber by reclaiming and reusing  urban trees that had to be removed. 
On-site or off-site sawmilling, kiln drying, bundled services, and competitive pricing.
---
Northwoods Custom Sawing
Bob Bolen
Phone: (231) 384-5077
Address: 2261 Tamara, Kalkaska County
Email: bobsnorthwoods@gmail.com
Woodmizer LT40HD.
Portable sawmill save money and have us come to your location and turn your renewable resource into usable lumber.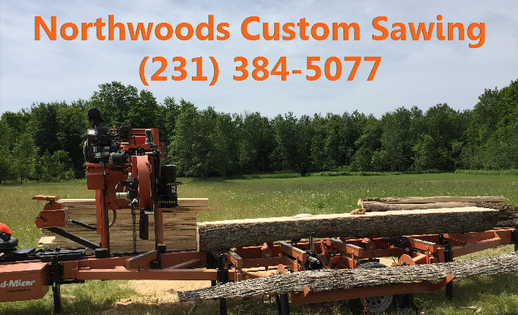 ---
Michigan Sawmill Sales
Charles Schultz
Email: john@primalwoods.com
(810) 354-8027
Address: 8197 Hogan Road
Email Address: info@misawmillsales.com
Web Site: www.misawmillsales.com
Let us bring our sawmill to you so we can turn your logs into lumber.   We are able to process logs up to 28 inches in diameter and 17' 2" long. We are capable of producing boards up to 24" wide. We will gladly work with your fallen timber, but we do not cut down trees.  $95.00 per hour (3-hour minimum, includes travel time).
---
Primal Woods Sawyers, LLC
Contact: John

Phone: (269) 222-0101
Web Site: http://primalwoods.com/sawyers/

We offer portable sawmill services, including Alaskan chainsaw milling, to our southwest Michigan service area; we bring our equipment to you, and make lumber from your logs.
Our tool of choice for milling dimensional lumber is a Wood­Mizer LT40HDG35 Hydraulic; it is probably safe to say that this is the industry standard, and Wood-­Mizer invented the portable sawmill in 1982. The mill includes several optional features, and is powered by a 35 hp Kohler engine.
For slabbing of logs larger than 24 inches in diameter, or to breakdown large logs for further processing on the Wood-Mizer, we have selected a 48 inch Granberg Alaskan Mk-III Milling Attachment, paired with a Husqvarna 3120XP chainsaw powerhead.
---
Hosting by Galaxy Host | Privacy Policy | Terms and Conditions