What is Portable Sawmill Finder?



An Internet advertising and marketing platform providing free adds in The Sawmill Finder and cost effective website hosting and development for the small  business operator.

The goal of this web site is to provide the small and portable sawmill industry with the most cost effective Internet presence to advertise. Promote your sawmill business with free advertising in all 50 States, Canada, Australia and Europe. We encourage you to use the tools available here to expand your marketing abilities. Start here to reach a greater audience and build a growing customer base.
Just thought you would like to know that your site was the only place I posted an ad and was the only place I got business from for the past several years. Your site kept me busy almost every weekend saving trees from the chipper.
Thank you for your kind words.
 Mark  Amann
 To place a free ad on this site click here
Recognizable logo's and header images are the first step in customer attention, retention and trust building for any successful business. Just let us know if we can help you get started.

Who Needs a Website?
Everyone who runs a business. It's as simple as that.
Having a website conveys that you are a serious professional business person. Reaching out to bring in customers is at the top of the priority list for any entrepreneur. At the end of last year, about 252 million people were online in North America and about 10 million are expected to adopt the Net this year (source: royal.pingdom.com). In today's business world having a website is a must in order for customers to find you and to set yourself apart from the pack.
Get the Word Out
The more people that know about you and your company the greater the chances you have for attracting new customers. Making your information available 24/7 on a yearly basis is expected to be normal in this age of lightning fast communication. Without it you may be passed over in favor of a competitor who was a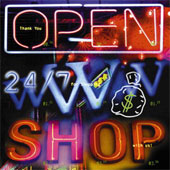 ble to deliver information and supply the needs of customers.
Having a website gives you the opportunity to sell your products and services around the clock. To create customer loyalty and patronage, you need to make a client feel good about you and your services. The first step of any sale is educating the client to be familiar with your business, your services and what you are selling. In this day and age more and more people are looking on the Internet to get the information they need to make educated buying decisions.
A website can do all the above and save you time and money.
yourname.com
For more details about building a website for your business see information at Galaxy Host

Look up your domain name
Hosting by Galaxy Host | Privacy Policy | Terms and Conditions